Manchester firefighter death: Cigarette may have caused blaze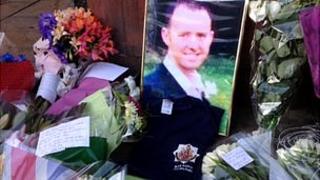 A discarded cigarette may have caused a blaze that killed a firefighter in Manchester, the BBC understands.
Stephen Hunt, a 38-year-old father-of-two, died while tackling the fire at Paul's Hair World in Oldham Street on Saturday afternoon.
It was the third serious fire in the Northern Quarter area of the city in a matter of months.
Two 15-year-old girls arrested on suspicion of manslaughter have been bailed until September.
Fire crews are still at the scene using thermal imaging cameras to see if there are any pockets of fire remaining.
Greater Manchester Police (GMP) said the force was keeping an open mind at this stage of the investigation. The fire is thought to have started at about 14:30 BST in an underground store room.
'Shocked and saddened'
Flags are flying at half-mast across GMP buildings today in tribute to the firefighter, who was based at Manchester's Philips Park fire station.
Two fire engines remain at the hair products supply business as the building is still "smouldering", Greater Manchester Fire & Rescue Service (GMFRS) said.
A second firefighter - among about 60 who tackled the blaze - remains in hospital but is not thought to have life-threatening injuries, GMFRS said.
A fire at a derelict building on the same street in April was tackled by about 50 firefighters. The building had to be demolished.
Several bars and businesses were evacuated in June after a fire broke out at the Almost Famous burger restaurant in High Street.
Group Manager Ian Bailey, who has been leading operations at the scene, said the tragedy had devastated firefighters.
"We are numb and feel utter despair - to lose a firefighter is an utter tragedy," said Mr Bailey.
Councillor Pat Karney said the council was "deeply shocked and saddened" by the death of Mr Hunt.
He said: "This is the third serious fire in the Northern Quarter in the last couple of months and we shall be meeting with the chief fire officer to advise owners and businesses in the area of fire safety.
"The council will be working with businesses to ensure that they have the support they need during this time.
"Our thoughts are also with the injured firefighter and his family at this terrible time."
Parts of Tib Street and Oldham Street, along with several other roads in the Northern Quarter remain closed.