Manchester fire: Family pays tribute to killed firefighter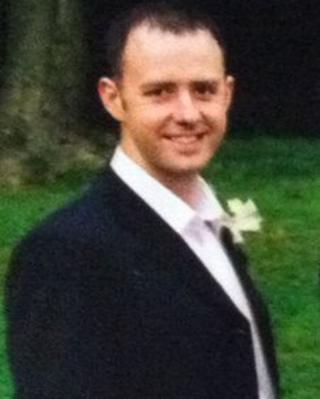 The family of a firefighter killed tackling a blaze in Manchester have spoken of their pride in their "loving father".
Stephen Hunt, 38, was among 60 firefighters called to the fire at Paul's Hair World in Oldham Street. One other was taken to hospital.
The father-of-two was based at Manchester's Philips Park Fire Station.
Two 15-year-old girls have been arrested on suspicion of manslaughter and have been bailed until September.
The family said: "Stephen was an old-fashioned gentleman with manners that are rare in this day and age.
"With core values which included loving his family, being the best father that he could be, loving and affectionate to those that were close to him.
"Stephen lived to serve his country having served for seven years in the Royal Signals and then becoming a firefighter, which was a career that he was very proud of.
"The whole family will miss spending time with Stephen, none more so than his son, daughter and grandmother.
"We loved his sense of humour and are very proud of him and what he brought to our lives."
The injured firefighter is not thought to have life-threatening injuries, a Greater Manchester Fire and Rescue Service spokesman said.
'Dedicated firefighter'
Eight crews remain at the hair products supply business, where the fire broke out at about 14:50 BST in the underground store-room.
Two members of staff were taken to hospital after they tried to tackle the blaze themselves. One suffered burns and another the effects of smoke inhalation.
Greater Manchester Fire and Rescue Service said the fire was still smouldering, but crews had brought it under control.
Parts of Tib Street and Oldham Street, along with several other roads in the area, remain closed.
The fire service said the blaze had been particularly difficult to tackle because of the complex layout of the building and the amount of material inside.
County Fire Officer Steve McGuirk said: "We are devastated by the loss of one of our colleagues who has died in the line of duty.
"We never expect to lose a colleague in this way and it brings home the dangers that our firefighters put themselves in every day to keep the community safe.
"Stephen had been a dedicated firefighter since 2008 and we are all in a state of shock."
'Professionalism and courage'
An investigation is being carried out in conjunction with the police to establish the cause of the blaze.
The Merseyside and Lancashire fire services are expected to lead an investigation into the circumstances around Mr Hunt's death.
Matt Wrack, general secretary of the Fire Brigades Union, said: "There is a great feeling of solidarity amongst firefighters as a result of the job that they do and the risks that they face and this will be keenly felt by firefighters across the UK and indeed internationally."
Vij Randeniya, president of the Chief Fire Officers Association, said: "We are all devastated by the news.
"We offer our sincere condolences to Stephen's family, friends and colleagues at this very sad time."
Bob Williams, acting chief executive of North West Ambulance Services NHS Trust, said: "To lose a member of staff whilst they are on duty serving the community is one of the greatest fears across all emergency services."