Nellie Geraghty ashes murder: Mark Royle's jail term cut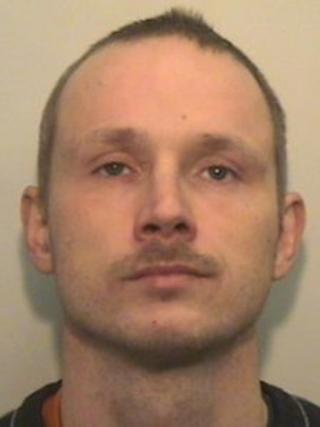 A man jailed for murdering a 79-year-old woman while stealing a handbag containing her husband's ashes has had his sentence reduced.
Nellie Geraghty was found on the ground still clutching the torn strap of the bag in Shaw, Oldham, in November 2011. She died later in hospital.
Mark Royle, 37, was ordered to serve a minimum term of 28 years at Manchester Crown Court.
The Court of Appeal in London reduced his minimum sentence to 25 years.
At his trial at Manchester Crown Court, the former drug addict pleaded not guilty to charges of robbery, murder and manslaughter.
As well as being found guilty of murder, Royle was also convicted of robbery for stealing Mrs Geraghty's bag.
Drugs excuse
Mrs Geraghty, who lived closed to the alleyway between Elizabeth Grove and Kershaw Street where she was found, suffered head injuries likely to have been caused by a kick or stamp.
Royle, of no fixed address but formerly from Shaw, claimed he was buying and smoking drugs when the attack happened.
However he was captured on CCTV cycling away from the area where the attack happened.
Police said he used the money that was in Mrs Geraghty's bag to buy drugs, then changed his clothes and disposed of his bike to evade arrest.
Mrs Geraghty's bag was later recovered from a nearby river, but her husband's ashes were never found.
Mrs Geraghty's husband had died some years ago and she was so devoted to him she carried his ashes in her shoulder bag when she went out.
Following the crime, Shaw residents organised search parties to look for Mr Geraghty's ashes, without success.