Missing dogs rescued from sewer pipe in Bury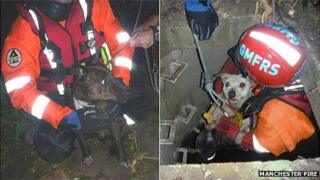 A pair of dogs which had been "missing for a couple of days" have been rescued from a sewer pipe in Greater Manchester.
The dogs were found after fire crews went to land in Townfield Close, in Bury, at around 01:00 BST.
Watch manager Roy Grundy said they had been "stuck six metres down in a metre-wide sewer pipe".
He added that after getting them out, the dogs had been "very wet, dirty and bedraggled but, thankfully, OK".
"The dogs had been missing for a couple of days and their owners had put posters up in the area," he said.
"We worked slowly and carefully to get them out.
"A firefighter wearing breathing apparatus went down into the pipe on rope rescue equipment and rescued the dogs one by one."