Tameside Hospital: Interim bosses appointed for trust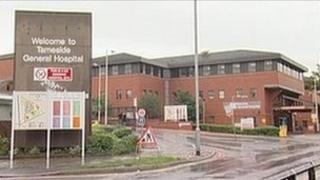 A hospital investigated for high death rates has appointed temporary replacements for two senior bosses who resigned on Wednesday.
Karen James and Brendan Ryan, of University Hospital of South Manchester (UHSM), will be chief executive and medical director at Tameside Hospital.
Christine Green quit her job as chief executive and medical director Tariq Mahmood also stepped down.
Tameside Hospital NHS Foundation Trust said the appointments were interim.
The hospital is one of 14 hospitals under scrutiny for its high death rates.
Ms James, the acting chief executive at UHSM, joined the trust in 2009, while Mr Ryan joined it in 1987 becoming medical director in 2000.
'Weak leadership'
Tameside Hospital chair Paul Connellan said: "We welcome both Karen and Brendan to support the hospital during a time of significant challenge.
"Both have a remarkable record at South Manchester and I know will be able to bring that wealth of experience to help us move forward."
Mr Mahmood offered his resignation three months ago, for family reasons, but the Tameside trust delayed its announcement until a replacement was found.
Ms Green, who has been chief executive since 1988, decided to resign after finalising plans for a "listening exercise" to hear what local people and groups such as GPs thought of the hospital.
It emerged last week that two reviews, seen by the Guardian newspaper, found problems in the hospital's A&E and medical assessment units.
One report, commissioned by Tameside Hospital, found up to eight A&E patients at a time were waiting in a corridor, with one left for seven hours. It said weak leadership had affected "patient outcomes".
The hospital said the reviews were commissioned because of staff concerns and it had responded with an action plan.
In February, NHS medical director Prof Bruce Keogh announced Tameside was one of 14 hospitals that he would be investigating over its high death rates.