Tameside Hospital: Senior bosses resign from trust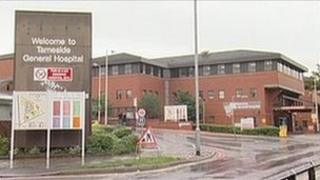 The two most senior managers at a hospital investigated for high death rates have resigned from their jobs.
The resignations were announced on the day it emerged Tameside Hospital had been criticised for its poor patient care by two independent reviews.
Christine Green, chief executive of Tameside Hospital Trust, has left her job and Medical Director Tariq Mahmood has also stepped down.
Tameside is one of 14 hospitals under scrutiny for its high death rates.
A trust spokesman said Mr Mahmood had offered his resignation three months ago, for family reasons, but the trust delayed its announcement until a replacement was found.
'Care passionately'
Ms Green, who has been chief executive since 1988, decided to resign last week after finalising plans for a "listening exercise" to hear what local people and groups such as GPs thought of the hospital.
She said it had become clear her position "was no longer helpful to the organisation".
She added: "I believe that most who know me know that I care passionately about this hospital, its staff and the people we serve.
"However it became clear to me that it was important for me to hand over the reins."
Paul Connellan, chairman of the hospital trust, said: "Christine's commitment has been unwavering 365 days a year.
"At this time Christine and the board felt it would be appropriate for her to let someone else lead the trust as it faces the future challenges that exists across the whole of the NHS."
'Weak leadership'
Earlier on Wednesday it emerged two reviews, seen by the Guardian newspaper, had found problems in the hospital's A&E and medical assessment units.
One report, commissioned by Tameside Hospital, found up to eight A&E patients at a time were waiting in a corridor, with one left for seven hours. It said weak leadership had affected "patient outcomes".
The hospital said the reviews were commissioned because of staff concerns and it had responded with an action plan.
A Department of Health spokesman said it took any concerns about care failings seriously and always took action, including passing them to regulators for examination.
He said: "The government ordered a review into standards at Tameside in February and we expect the report will be published shortly.
"In addition, standards at Tameside are also being examined by CQC."
Meanwhile, Tameside's three MPs - Jonathan Reynolds, Andrew Gwynne and David Heyes - released a joint statement welcoming the resignations.
They said: "We have all said on numerous occasions that Tameside Hospital needs a change of leadership.
"Although there are numerous concerns about problems at the hospital we know from both speaking to our constituents and from personal experience that there is lot of good care delivered by the hospital's staff too.
"However, the problems that do exist at Tameside have not been sufficiently addressed and we believe that the senior management have to answer for this.
"The hospital trust now needs to find a successor who is capable of implementing the change that our hospital needs.
"Hopefully, this will be a turning point and patients, staff and the wider public will now be able to rebuild their confidence in Tameside Hospital."
In February, NHS medical director Prof Bruce Keogh announced Tameside was one of 14 hospitals that he would be investigating over its high death rates.