Philip Baron: Drugs gang saw police raids as 'tax'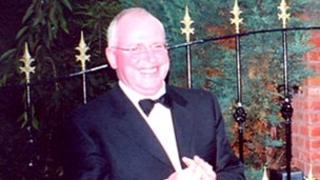 Former lorry driver turned drugs kingpin Philip Baron thought his multi-million pound international drugs operation was "above the law".
The 58-year-old, who was originally from Salford, was jailed for 18 years at Liverpool Crown Court for leading a network with scant respect for law enforcement agencies.
Steve Baldwin, head of investigation in the north west for the Serious and Organised Crime Agency (Soca), said: "Even when we seized drugs they just took them as losses on the profit margins of their company.
"They thought this is like a tax."
Describing the gang's drugs smuggling operation as "huge" he added: "Baron portrayed himself as a legitimate businessman.
"He was living a highly luxurious lifestyle and thought he was above the law but in fact we were investigating him and other members of this network.
"We were behind them all the way. In fact, we were one step ahead of them.
"People like Baron cannot operate alone, they might be high up in criminality, but they have to rely on others," said Mr Baldwin.
The highly complex investigation to bring Baron and his gang to justice involved 16 UK police forces and six foreign law enforcement agencies.
Glossy magazine
He added: "We arrested 89 individuals to completely dismantle this organised crime group."
Baron, who was living in Ireland, near five-star golf resort the K Club, was finally trapped by evidence gained by secretly monitoring calls made an accomplice of his Walter Callinan, 60, from prison.
In one conversation, he was heard bragging that the authorities had nothing. But in a later call to Baron he realised that key documents had been found at the home of a money launderer.
Callinan was recorded saying the authorities had that much documentation, "the Pope wouldn't get out of it".
Twenty-eight members of the gang have already been convicted and jailed for their roles in the operation
They include Paul Yearsley who was jailed for five years and four months for drug trafficking and whose multimillion-pound house was featured in a magazine feature in Lancashire Life.