Boeing 787 Dreamliner arrives at Manchester Airport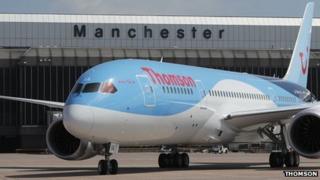 The only UK airline to fly the Boeing 787 Dreamliner has taken delivery of its first of the aircraft at Manchester Airport.
Thomson Airways will begin operating the plane from July on flights to Mexico and Florida.
Hundreds of enthusiasts gathered at the airport to watch the plane arrive from the factory in Seattle.
Fifty Dreamliners worldwide were grounded earlier this year because of battery malfunctions.
The manufacturer has since modified the jets with new batteries.
'Big and airy'
Boeing had hoped the plane would go into commercial service in 2008 but production difficulties dogged the aircraft.
It was not until October 2011 that Japanese carrier All Nippon Airways operated the first commercial flight.
The Dreamliner is made of composite materials and Boeing claims it is the world's most efficient airliner.
Carl Gissing, director of customer service at Thomson Airways, said: "It's big, it's light, it's airy and it's much more economical."
The plane will be able to carry 291 passengers and fly at about 38,000ft (11,500m).
Thomson will take delivery of a further three aircraft later in the summer operating from Gatwick, Manchester, East Midlands and Glasgow airports.