Dale Cregan's 'bizarre' murder denials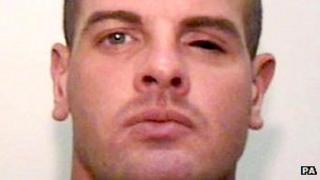 Police killer Dale Cregan's denial of murdering two other people is "bizarre", a jury has heard.
In his closing speech Prosecutor Nicholas Clarke QC said Cregan's confession he killed David Short was the "worst kept secret in Strangeways".
At Preston Crown Court, Dale Cregan denies killing Mark Short, 23, in May and his father David, 46, three months later in a gun and grenade attack.
Cregan, 29, has admitted murdering PCs Fiona Bone and Nicola Hughes.
He is on trial, along with eight other men, accused of murdering the Shorts.
'Calling card'
Mr Clarke said David Short's murder was "essentially" the same as the attack on the police officers, a month later.
He told the court: "Essentially it was the same way. The surprise ambush, the hail of gunfire and the gratuitous throwing of his calling card (the grenade)."
CCTV footage of Cregan trying to to fire a Glock handgun and throwing a grenade at the home of another intended victim shortly after the killing of Mr Short was "the most obvious evidence against him", he said.
"But bizarrely he has pleaded not guilty."
He said it had been "an odd murder trial" because the main defendant - who chose not to give evidence to the jury - had not challenged through his barrister any of the evidence in which several witnesses said Cregan had told them he killed the Shorts.
Mr Clarke reminded the jury that Cregan told a psychiatrist and psychologist in prison before the trial that he had killed David and Mark Short - and had even made the same confession to his mother.
'Large jigsaw puzzle'
Earlier, the prosecutor told the jury to look at the case as "a very large 1,000-piece jigsaw puzzle".
Cregan was at "the centre of the puzzle" and once they fitted together the pieces relating to him it would help to inform their decision about the surrounding pieces - the rest of the defendants.
Leon Atkinson, 35, from Ashton-Under-Lyne, Luke Livesey, 27, from Hattersley, Damian Gorman, 38, from Glossop, Ryan Hadfield, 28, from Droylsden, and Matthew James, 33, from Clayton, all deny murdering Mark Short and the attempted murders of three others in the pub at the time.
Francis Dixon, 37, from Stalybridge, and Jermaine Ward, 24, deny murdering David Short, the attempted murder of Sharon Hark and causing an explosion with a hand grenade.
Anthony Wilkinson, 38, had denied murdering David Short at his Clayton home last August, but has since changed his plea to guilty.
He also admitted possessing a firearm, but denies attempting to murder Sharon Hark and causing an explosion with a hand grenade.
Mohammed Ali, 32, from Chadderton, denies assisting an offender.
The trial continues.