Wigan Athletic in FA Cup bus parade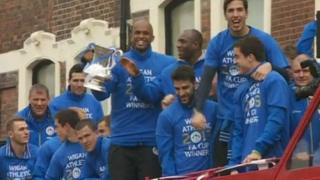 Wigan Athletic have celebrated the club's first FA Cup title with an open-top bus parade in the town centre in front of thousands of fans.
Festivities started in Market Place, before the team and staff paraded down Standishgate.
Wigan beat Manchester City 1-0 at Wembley on 11 May to claim the cup.
The leader of Wigan Council, Lord Peter Smith, said the town had "put on a party we will remember for years to come".
He said the fact that days after their victory Wigan were relegated from the Premier League following a 4-1 defeat against Arsenal at the Emirates Stadium "can't diminish the pride the whole town feels".
Latics fan Roy Gaskill said it was "a dream come true".