Officer completes 230-mile run for killed PCs Bone and Hughes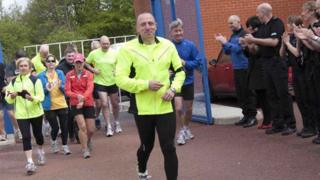 A police officer completed nine marathons in six days in memory of murdered Greater Manchester PCs Fiona Bone and Nicola Hughes.
PC Steve Phillips raised £3,000 for charity with his 230-mile (370km) charity run from Hyde, where the officers were based, to Bournemouth.
The pair were killed by Dale Cregan after being lured to a fake burglary.
PC Phillips, who suffered a stroke two years ago, said he was "tired but elated" at the end of the route.
He added: "I am really chuffed to have got here. It was the biggest challenge I have done.
"There were a couple of times I thought 'why am I doing this?' but then I remembered it was important to keep the memory of the two girls alive. That is why I carried on.
"The toughest time was the first day - there was driving rain in the afternoon. The legs got used to it as the week went on."
Money raised from his run will go to Care of Police Survivors and the North West Police Benevolent Fund.
In November, 80 police officers and staff completed a 190-mile bike ride in memory of the two PCs, who were killed by Cregan in a gun and grenade attack on 18 September.