Nigeria kidnap victim Chris McManus was 'unlawfully killed'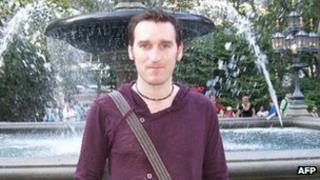 An engineer from Greater Manchester was unlawfully killed by his kidnappers in Nigeria minutes after a UK-led rescue operation stormed in, an inquest found.
Hostages Chris McManus, 28, from Oldham, and Italian Franco Lamolinara, 48, died on 8 March 2012 before Nigeria and UK forces were able to rescue them.
They had been kidnapped in May 2011 after gunmen stormed their building.
An inquest in Salisbury recorded a verdict of unlawful killing for Mr McManus.
British special forces were sent to the Sokoto area the day before the rescue attempt and the go-ahead was given by Cobra, the government's crisis committee, after a review of the intelligence led to fears for the men's safety.
'Killed quickly'
Earlier a video had been released to news media appearing to show the men blindfolded with their arms behind them and masked men standing nearby.
The hostages were killed "fairly quickly into the engagement" as forces came under fire from kidnappers, the inquest heard, with Mr McManus shot six times through a toilet door.
He died from a single gunshot to the head and death would have been almost immediate, pathologist Dr Nicholas Hunt told the inquest.
Wiltshire and Swindon coroner David Ridley said: "I am satisfied that Chris was killed as the result of a weapon fired by an insurgent, fired without legal justification or excuse and quite clearly with the intention of killing."
Mr McManus's family paid tribute to "the seven British military personnel who, with their Nigerian counterparts, risked their lives attempting to rescue Chris and Franco from the compound in Sokoto".
They added: "We hoped until the end for a positive outcome as we are sure did Chris and Franco.
"They were always in a dangerous situation from the time of their kidnapping. However, the sequence of events, particularly over the last few days of their lives, played out in such a manner as to make it a hopeless one.
"We accept that the decisions reached and taken by the authorities were the only ones possible based on the information available.
"Chris cannot be hurt any more, we and all those who loved him will always remember the way he lived and not the way he died."
Mr McManus, a quantity surveyor and Salford University graduate, had been working for a construction company building shopping centres and stadia in Nigeria.
He was living in a heavily guarded compound in the city of Birnin-Kebbi, which had previously been considered safe by his employers.
A Foreign and Commonwealth Office spokeswoman said: "Our thoughts are with Chris's family - they have shown great dignity and strength throughout and no family should have to go through this trauma."