Man 'engrossed in crossword' rescued from chip pan fire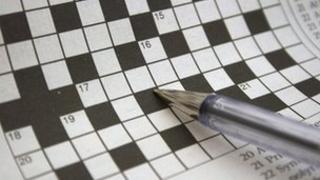 A man has been rescued by neighbours from a Manchester flat after becoming so "engrossed" in a crossword he failed to notice a chip pan fire.
The neighbours heard smoke alarms and dealt with the fire in the sixth floor flat at Brownley Court Road, Benchill, on Thursday evening.
The 61-year-old was so enthralled with a puzzle, he had not reacted to the alarms, a fire service spokesman said.
Fire crews called to the property treated the man for smoke inhalation.
Watch manager Pat Johnson said the fire was out by the time the crews arrived.
He said: "His smoke alarm had sounded and a couple of neighbours came and investigated.
"One of them took the chip pan off the heat and the other put water on it.
"Putting water on a chip pan is not recommended because it can make the fire worse, but on this occasion it ended ok."