Jade Anderson death: New dog laws 'will not prevent tragedies'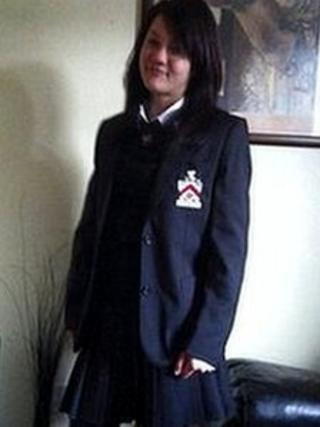 Proposals to tighten the law governing dangerous dogs will not prevent further tragedies like the death of 14-year-old Jade Anderson, an MP has claimed.
Jade was attacked by four dogs while visiting a friend's house in Atherton, near Wigan, on 26 March.
Bolton West MP Julie Hilling said after a House of Commons debate on Wednesday the amendments "do not go far enough".
The government said in the debate it was planning to extend police powers to deal with attacks on private property.
The Minister of State for Environment, Food and Rural Affairs, David Heath, said the government was taking the matter of dangerous dogs "extremely seriously" and the death of 15 people since 2005 was "totally unacceptable".
Mr Heath said he was confident the proposed Anti-social Behaviour, Crime and Policing Bill, set to replace the Dangerous Dogs Act 1991, would help tackle irresponsible dog ownership.
'Simply not good enough'
"We are giving the police more powers to deal with attacks that happen on private property, in order to protect the thousands... who are attacked each year," Mr Heath said.
He added that sentencing had increased for dangerous dog offences in August 2012.
But Labour MP Ms Hilling argued "tinkering with the Dangerous Dogs Act is simply not good enough", claiming "holistic legislation" and "preventative measures" are needed.
She suggested the introduction of dog control notices, like those in Scotland and Northern Ireland, training dogs and their owners plus incorporating lessons on being a responsible dog owner in to the school syllabus, too.
"We have to do things to stop the problems in the first place," said Ms Hilling.
"Dog control notices would give authorities the power to intervene and instruct the owner to take action that could include keeping the dog muzzled, keeping it on a lead or keeping it away from children and order the owner and dog to undertake training."
She said it would also act as an "early warning system" to promote responsible ownership.
As the attack on Jade happened on private property and the dogs were not a banned breed, Ms Hilling said no criminal charges will be brought under the Dangerous Dogs Act.
'Deed not breed'
She said: "It seems absolute nonsense that one of the first acts [in the attack on Jade] the police had to undertake was to test the dogs to see whether their DNA contained traces of any banned breeds.
"We should have legislation that reflects the deed of the dog, not its breed."
She also proposed a register of breeders in addition for the government's plans for compulsory microchipping of all dogs "to limit the indiscriminate breeding of puppies".
Ms Hilling's calls coincide with the findings of the environment committee of MPs which echoed the view that tougher laws are needed.
The committee welcomed prosecutions for attacks on private property but criticised a lack of action to address threatening behaviour in dogs at an early stage.
Mr Heath said the bill would be "properly debated" before it receives Royal Assent.
A second reading in the House of Commons is set for 10 June.