Peel Energy Trafford incinerator plan gets go-ahead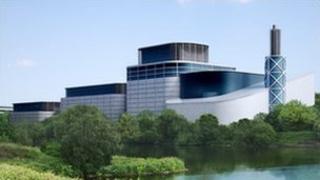 A £70m biomass incinerator will be built in Greater Manchester despite residents' health fears.
Peel Energy's plan to generate electricity by burning wood at a plant in Davyhulme was opposed by Trafford Council and hundreds of residents.
A three-week government inquiry was held after the firm appealed and the Environment Agency said it was satisfied it would not pose a risk.
Inspector David Richards said the development should go ahead.
The Barton Renewable Energy Plant project manager Jon England said: "We realise that applications like these are not easy.
"However, these are exactly the kind of decisions that are required if the UK is to meet its renewable energy targets, reduce reliance on imported energy and avoid valuable resources going into landfill."
'Devastating blow'
Residents formed the campaign Breathe Clean Air Group (BCAG) and raised £20,000 for a legal fight against the plan.
They argued it would be too close to homes and result in pollutants being pumped into the air.
A spokesman said news of the plan's approval was a "devastating blow to the people of Trafford, Salford and Manchester".
"The historic and unprecedented level of local opposition, including from local residents, doctors, businesses, MPs, Salford Council and all of Trafford's Councillors, has been swept aside to make way for an outdated, dirty incinerator," he said.
"We believe the careless nature of this decision will be evidenced in years to come as the impact on health becomes reality."
Trafford Council said it was "disappointed" at the government's decision and plans to take legal advice before deciding whether to challenge it.
The report by Mr Richards stated: "I do not underestimate the genuine concerns and fears in connection with the impacts on air quality and health which have given rise to a perception of harm, and the effects on the community in terms of regeneration and confidence.
"However, I attach greater weight to the presumption in favour of sustainable development, and the need to approve development which accords with the development plan without delay."
Construction could start next year and the plant may be up and running by 2016.