Salford prison van fugitive Ryan McDonald caught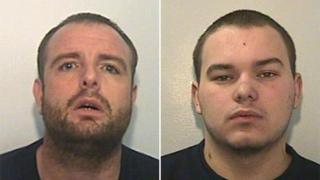 The second of two men being hunted by police after a prison van escape on 30 April has been recaptured, Greater Manchester Police have said.
Armed officers arrested Ryan McDonald during a raid on a house in Salford.
The other man police were looking for after the ambush in Salford, Stevie McMullen, was found in Galgate, Lancashire, on Sunday.
Det Ch Supt Darren Shenton said: "We said we would return them to custody. Today we have fulfilled that promise."
A 20-year-old man was arrested in the same raid in Salford on suspicion of assisting an offender.
McMullen was remanded in custody on Wednesday on a charge of trying to escape lawful custody.
McDonald was recaptured just after 17:00 BST by armed officers at a house in Cloughfield Avenue, Ordsall, police said.
Their prison van was rammed in the morning rush hour on Regent Road, Salford.
Det Ch Supt Shenton also said: "The last 10 days has seen intense and continued activity from the force as part of our ongoing commitment to find not only the two men but those responsible for the attack on the van.
"As well as this latest arrest, we have arrested and charged a number of other people in connection with what happened and the people of Greater Manchester can be assured that we will not rest until every single person behind this incident is located and brought to justice."