FA Cup final: Wigan and Manchester City fans head south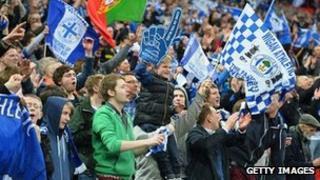 Thousands of football fans from Greater Manchester are making their way to London for the FA Cup final.
Wigan Athletic, appearing in the final for the first time in their 81-year history, face Manchester City.
Jason Taylor, from Wigan Athletic Supporters' Club, said the group had 45 coaches going down to Wembley Stadium.
He said: "The whole town has been emblazoned with Wigan flags, there's blue and white bunting above the shops - it has gripped us, that's for sure.
"Everyone's loving it. The good thing about the final is we are the underdogs, so there's no pressure on us at all."
'Exciting occasion'
The match starts at 17:15 BST, with some supporters concerned travel back to Greater Manchester will prove difficult as the last train from London Euston to Manchester is at 21:00 BST and the last train to Wigan is at 20:31.
The FA said the later kick-off time gave more people an opportunity to see the game and proved popular last season.
Kevin Parker, general secretary of the Manchester City Supporters' Club, called the day "an exciting occasion".
He said: "Even though it's our fifth visit to Wembley in a short period of time, the fact that we have got about 50,000 fans who have purchased tickets shows from our point of view it's still a very big game and they want to be here to see City hopefully lift the cup again."