Giving to beggars 'fuels addiction' warns campaign in Manchester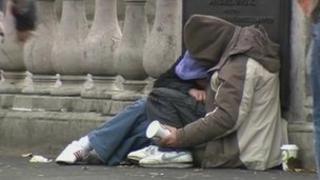 People in Manchester should not to give money to beggars - charities, police and the city council have said.
It follows the launch of a new campaign warning "begging fuels addiction" and "don't fund the habit, fund the charities".
It is backed by the city council and Greater Manchester Police as well as the Booth Centre which helps homeless people.
But a former beggar said it was the only way he could stay alive.
After becoming homeless, Richard Loftus begged for four years before he became a Big Issue seller.
"If you'd have come to me at school and said 'what are you going to be when you're older?' I definitely would not have said I'd be sat on the floor with a cup in my hand in the middle of a high street asking complete strangers for change."
'Humiliating activity'
Bernard Priest, who is responsible for neighbourhood services at the council, said money given on the streets would be better spent on homeless charities who are in urgent need of funding.
"Many of the charities we work with tell us if you give money to a beggar it will only go towards a drug or alcohol habit."
Charities working with people with substance abuse problems said giving money to people begging makes it harder for them to break free from addiction.
Amanda Croome from the Booth Centre said: "Begging is a humiliating activity which destroys people's self-esteem and often leads them to give up trying to make a better life for themselves.
"Giving to someone who is begging will do nothing to help them move off the streets or improve their quality of life."
Ch Insp Gareth Parkin of Greater Manchester Police said some city centre shoppers have reported feeling intimidated by aggressive begging.
"I would urge shoppers not to give money to beggars as it fuels the problem, but instead perhaps donate some cash or loose change to a homeless charity."