Salford prison van ambush: McDonald jailed in absence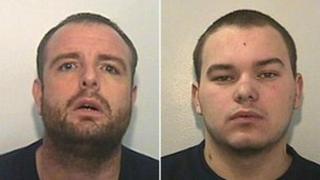 A man who escaped from a prison van in Salford on Tuesday has been sentenced for his part in a string of raids on pawnbrokers' shops.
Ryan McDonald, 20, of Allendale Walk, Salford, was jailed in his absence for seven years and 10 months.
He was being transported to court when the prison van was ambushed. He and another man escaped.
Police earlier offered a £10,000 reward for information leading to the men's recapture.
The other prisoner is Stevie McMullen, 31, who faces charges of conspiracy to kidnap, conspiracy to commit robbery, conspiracy to commit arson and possession of a firearm.
Shop windows
McDonald had pleaded guilty at an earlier hearing to two counts of conspiracy to commit robbery and aggravated taking of a vehicle.
Two others were sentenced for their parts in the raids and a 17-year-old youth will be sentenced on 3 June.
Jorden Jones, 19, of St Simon's Street, Salford, and the 17-year-old also pleaded guilty to conspiracy to commit robbery and aggravated taking of a vehicle.
Jones was sentenced to three years in jail.
Jordan Aston, 22, of Lower Seedley Road, Salford, pleaded guilty to conspiracy to commit robbery and was sentenced to seven years and two months in jail.
Police said McDonald and Aston admitted a conspiracy where one pawnbroker store in Manchester and two in Salford were targeted for jewellery.
In all cases, the offenders would approach the shops during the day, smash the front windows and steal jewellery.
Ch Supt Kevin Mulligan said: "It is unfortunate that McDonald wasn't present today to see this sentence being passed down, but we will track him down and find him to ensure that he does get his day in the dock."