Salford prison van ambush: Reward to catch escaped men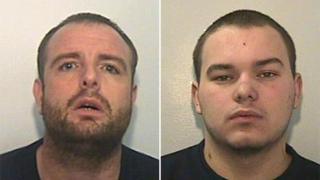 A £10,000 reward has been offered after two men fled a prison van when it was ambushed in Salford on Tuesday.
Ryan MacDonald, 20, and Stevie McMullen, 31, both from Salford, escaped when a car rammed the van and they were freed by masked armed men.
Ch Supt Kevin Mulligan said the reward was "significant and will make a genuine difference to someone's quality of life."
But he warned that the men were dangerous and should not be approached.
MacDonald was on his way to court for sentencing for conspiracy to commit robbery.
Axe and guns
Mr McMullen faces charges of conspiracy to kidnap, conspiracy to commit robbery, conspiracy to commit arson, possession of a firearm, and other offences.
The pair were being transported from HMP Altcourse in Fazakerley, Merseyside to Manchester Crown Court.
Shortly after 09:00 BST the van was travelling along Regent Road when a green Saab, registration C19 JCA, pulled out of Gloucester Street, blocking its path.
Three men wearing balaclavas got out of the car brandishing an axe, sawn-off shotgun and handgun.
They smashed the van's windows and forced the driver out of the vehicle, police said.
The driver was then ordered to open the van's back doors and the cells within containing the two prisoners, officers added.
All five men then escaped in the Saab, which was abandoned a short distance away on Regent Road, near a roundabout at the end of the M602.
Three of the group then ran off into Ordsall and the other two got on to a black Yamaha motorcycle, registration R1 GNE, later found abandoned in Thurlow Street in Weaste.
A third man travelling in the van continued on to court, police said.
A 24-year-old man and 28-year-old woman arrested in Ordsall, Salford, in connection with the escape have been bailed by police until 26 June.
Police are appealing for anyone with information about the vehicles or offenders to contact them.