Failsworth firework blast blaze injures two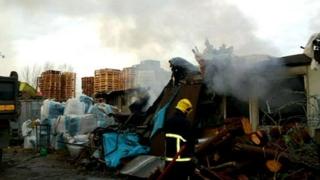 Two men were treated for burns after a fire caused by an exploding box of fireworks at an industrial estate in Failsworth, Greater Manchester.
Six fire crews tackled the blaze, on Morton Street, which broke out at about 18:00 BST on Tuesday and spread to a building containing gas cylinders.
One man was taken to the burns unit at Wythenshawe Hospital and the other went to Royal Oldham Hospital.
Firefighters spent the night cooling down the cylinders.
Ken Booth, watch manager at Gorton Fire Station, said the injured worked at the industrial site and had tried to tackle the fire while waiting for fire crews to arrive.
He added: "We always recommend that nobody ever tries to tackle a fire.
"The best thing you can do is to keep yourself safe which has been shown in this example by the two people ending up injured."