Pudding Lane fire sees Hattersley homes evacuated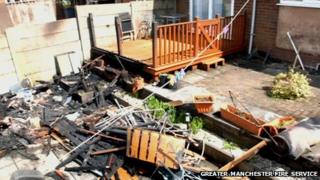 Up to 40 homes were evacuated after a cylinder ruptured and "launched like a rocket", causing a fire more than 60m (200ft) away, the fire service said.
The blaze started at about 10:30 BST on Pudding Lane, Hattersley, in the borough of Tameside.
The fire service said the cylinder, which was in a shed, landed in a garden and set fire to another shed.
No one was injured during the incident. The cause of the fire is now being investigated.
Four crews from Hyde, Stalybridge and Stockport attended the fire, while evacuated residents gathered in a local pub.