Greater Manchester launches electric vehicle scheme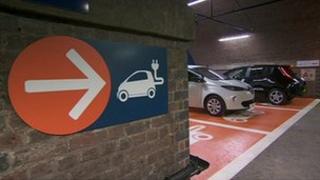 A scheme to encourage drivers to use electric cars by giving wider access to public charging points has been launched in Greater Manchester.
The £2.7m Greater Manchester Electric Vehicle scheme will see 200 bays placed in 10 local authority areas.
The first bays will be in place and ready to use by July.
The combined authorities' vice-chairman Sir Richard Leese said they would help drivers by providing "the electric equivalent of the filling station".
Flat fee
The cost of the Transport for Greater Manchester (TfGM) scheme will be partly paid using a £1.7m grant from the Office for Low Emission Vehicles, with the remainder being paid by the 10 authorities.
A TfGM spokesman said drivers using the bays will be charged a flat hourly fee, while the cost of a full charge, which should take about three to four hours, would cost no more than £6.
He said the network would be supplemented by private sector partners, including Manchester Central, Manchester Metropolitan University, the University of Salford and the Trafford Centre, which would be providing their own bays.
Sir Richard said the scheme would "play a vital part in helping Greater Manchester hit its targets for reducing carbon emissions as well as improving integrated transport choices and employment opportunities".
"Electric vehicles are going to transform the way we live and work and studies show that a network such as this is the key to getting drivers to consider a switch to electric.
"The take-up of electric vehicles will improve air quality and reduce noise pollution and therefore create a better environment for residents and visitors to the region."