Manchester soldier's killer admits knifing in Cyprus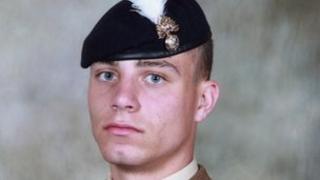 A man accused of killing a British soldier in a Cyprus nightclub has pleaded guilty to manslaughter.
Fusilier David Lee Collins, 18, from Manchester was stabbed to death outside a club in Ayia Napa, in November 2011.
Mohammed Abdulkadir Osman, 19, from London, originally pleaded not guilty but earlier admitted killing him at a court in Larnaca.
Charges against two other teenagers, who were both 17 at the time of the stabbing, have been dropped.
Mr Collins' mother Lisa Minott said: "I'm just glad it's all over really. I just miss Steve, I'm just overwhelmed."
Knife crime campaign
Fusilier Collins was off-duty with three other soldiers when they became involved in a brawl with three British holidaymakers outside Black & White club in the early hours of the morning of 4 November.
It was the day before he was due to fly out to Afghanistan.
He served with 2nd Battalion, Royal Regiment of Fusiliers, and was stationed at Dhekelia, about 12 miles (20km) west of Ayia Napa.
Osman said in court in November he had acted in self-defence after a fight with Private Collins.
He will be sentenced on 15 May.
Family and friends of Fusilier Collins have launched a campaign against knife crime in the area.
Campaigner Sharon McKenzie said: "We know we can't stop knife crime altogether but we did want to put the message across that holding a knife is not worth a life."
The UK's Ministry of Defence (MoD) said it has advised soldiers against going to some parts of Ayia Napa's centre after past trouble.
The town is a popular destination for young holidaymakers.
Cyprus has two British military bases in Dhekelia and Episkopi.
The MoD said there were about 3,000 UK personnel based there.