Appeal to Sir Richard Branson over FA Cup train times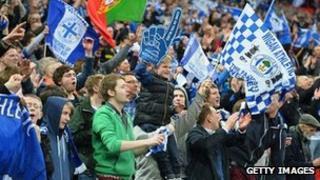 The leader of Wigan Council has asked Sir Richard Branson help schedule later trains for Wigan Athletic fans returning from the FA Cup final.
Lord Peter Smith contacted the Virgin Trains owner after the FA announced the tie with Manchester City at Wembley on 11 May would kick off at 17:15 BST.
The last train from London Euston to Wigan on the day is at 20:31 BST.
A Virgin Trains spokeswoman said it would be "operationally very difficult" to put on extra trains.
Lord Smith said he had asked for later trains to allow supporters to "enjoy the match through to the final whistle without fear of missing the last train".
He added that he hoped the company could "pull out all the stops to make sure fans have access to a train service at a reasonable time so they can get home safely".
Wigan fans who travelled to the club's semi-final victory over Millwall last Saturday faced the same issue over train travel, as that game kicked off at the same time.
'Totally constrained'
The letter has been welcomed by Wigan Athletic, whose chief executive Jonathan Jackson said he wanted fans to have "a great day out and we wouldn't want their enjoyment to be cut short if it can be avoided".
The spokeswoman for the train company said "all options have been thoroughly explored around return travel immediately after the match", but that they were "totally constrained by the tea-time kick off and Network Rail's requirement to carry out essential maintenance on the West Coast Main Line".
She said, as a result: "there are no suitable services returning to the North West that take into account the uncertainty of when the match will actually end".
She added that the company was putting on an extra train from Wigan to London on the morning of the match.
It is the second year fans from the North West have had difficulties with train travel to the cup final.
Last year, engineering work meant Liverpool fans had no way of returning by rail from their clash with Chelsea at Wembley.
An FA spokesman said "only a minimal amount of fans" used trains and that the kick-off time gave "more people an opportunity to see the game and proved very popular last season".