Tom Daley and Oldham divers protest over lack of diving plans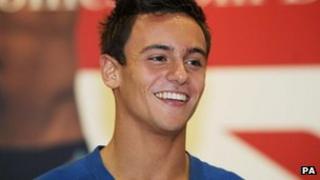 Divers in Oldham have said council plans to close the area's only diving pool are "harsh".
Oldham Council plans to close four sports centres and build two new ones, neither with a pool for board or underwater diving.
Oldham Sub-Aqua Club has collected 3,000 signatures, including that of Olympic bronze medal diver Tom Daley, in protest against the lack of a pool.
Oldham Council's Hugh McDonald said he would "work to find a solution".
The plans, which go before the council's cabinet on 22 April, will see Royton and Oldham sports centres closed and replaced by new centres in the towns. Glodwick and Crompton pools will also be closed.
The closure of the facilities at Oldham will mean both board and underwater divers will have to travel to Manchester Aquatics Centre or Bury's Castle Leisure Centre to use a suitable pool, which Oldham Sub-Aqua Club's Dave Hackman said needs to be 4m (13ft) in depth.
'Best value for money'
Mr Hackman said the current pool was used "extensively" by sub-aqua and diving clubs.
"It's a facility that we have had for 30 years and it seems harsh to lose it," he said.
"What we've asked for all along is just a deeper end to the normal pool - we don't want anything too fancy.
"We realise in the current climate that they can't afford a separate pool."
A council spokesman said other options had been considered, such as a learner pool with a moveable floor which could have doubled as a diving pool.
Both the new Oldham and Royton centres will have 25m (82ft) pools and learner pools, with Oldham also having facilities including a sports hall and indoor bowls hall.
Mr McDonald, cabinet member for education and safeguarding, said the council had "asked for other options to be fully investigated on the basis of costs, benefits and demand - [they] were not agreed for a range of reasons".
He added that "alternative facilities were available in Manchester and Bury" and the plans offered "the very best value for money at a time when we have to find additional budget savings of £7.5m".