Gold Liberace Cadillac put up for sale by Mottram businessman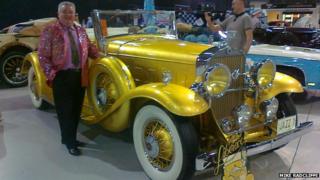 A gold Cadillac which was owned by flamboyant musician Liberace is being sold by a businessman who spent months making it roadworthy again.
The 1930s car has been valued at £100,000 by Mike Radcliffe, who bought it from a car collector in 2011.
Liberace, who died in 1987, was known as much for his extravagant tastes as for his music.
Mr Radcliffe, from Mottram in Tameside, said he enjoyed driving around in the car and would be "sad to see her go".
He said the convertible car had a number of "unique" features, including 23.5 carat gold leaf bodywork, diamond crowns on the wheels and two rubies in the radiator mascot.
'Causes a stir'
He added that even the number plate, JAZZ 1, was valuable.
US pianist Wladziu Valentino Liberace, known for his lavish lifestyle and exuberant performances, was born in 1919.
His life is portrayed in an upcoming Steven Soderbergh film, Behind the Candelabra, starring Michael Douglas as Liberace and Matt Damon as his lover.
Mr Radcliffe said he bought the car from fellow car collector Jim Thornbury in Manchester in early 2011.
"I was shown around his garage and there in the corner was the gold car," he said.
"Jim told me the history and that it had been displayed in a museum in Germany for 14 years."
Having bought it, he said he spent five months returning it to working order and has since shown it at car shows around the country.
"It has been driven regularly since we put it on the road and most certainly is a show-stopper," he said.
"I take the car along and wear a sparkly red Liberace jacket - it always causes a real stir and has won many awards."