'Insurmountable' problems stop Maytree Travel services in Bolton and Wigan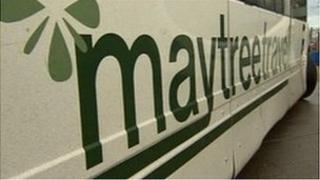 Parts of Greater Manchester have been left without buses after an operator suspended 40 services due to "insurmountable" problems, the area's transport executive has said.
Manchester Community Transport (MCT) stopped all Maytree Travel services in Bolton and Wigan at about 14:00 BST.
The company issued no comment on the reason for the suspension.
Staff said it was due to the company being unable to insure buses and the service had been closed down.
An employee, who asked not to be named, said staff had been told a proposed takeover of Maytree Travel had also fallen through and that there was "no point in continuing to run services because no-one is going to get paid".
He said he was "gutted" about what had happened and "felt sorry" for those people who would have to find alternative transport to get home.
Maytree Travel has previously reported issues with attacks on its staff, vehicles and passengers and in February last year said it might have to withdraw services if things did not improve.
'Deeply regrettable'
Michael Renshaw, Bus and Rail Director for Transport for Greater Manchester (TfGM), would not confirm what issues had led to the suspension but said alternative operators were being sought.
He said MCT had "actively been working over the past few days to address the issues that have led to this situation, but it's now clear they are insurmountable".
"This is now affecting the level of service being provided into the evening and, unfortunately, passengers should not now expect any Maytree services to run tomorrow or over the weekend."
He added that it was "deeply regrettable that passengers have been put in this position".
"The services in question provide essential links for communities in Bolton, Wigan and neighbouring areas and our focus is on doing everything we can to support passengers through this situation."