Greater Manchester hospitals' patient data found in street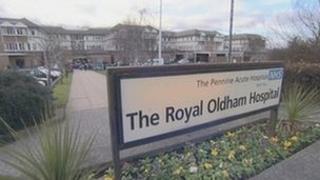 Two Greater Manchester hospitals are investigating after confidential information about their patients was found by members of the public.
Information about 16 child patients at the Royal Oldham Hospital was found more than 40 miles away on a street in Liverpool.
The Pennine Acute Hospitals NHS Trust said any loss of data was unacceptable.
Royal Bolton Hospital is also investigating after medical notes were found in the town on Friday.
'Potential breach'
The documents were believed to have contained details of 25 patients printed on four pages.
The patient details found in Liverpool, however, were printed on a single page.
A spokeswoman for The Pennine Acute Hospitals NHS Trust said: "We have clear systems in place to ensure the confidentiality of patient data and this information would normally only be handled by a small number of doctors and nurses on the children's ward.
"We will now undertake a full investigation into how this document ended up in Liverpool.
"As part of this investigation, we will find out what went wrong in this case. We will also be contacting the parents and guardians of all the 16 patients involved."
The Information Commissioner's Office is investigating both incidents.
A spokeswoman for Bolton NHS Foundation Trust said: "We take all confidentiality issues very seriously and therefore are extremely concerned by this incident.
"Managing patient information legally, securely and efficiently is of paramount importance to the trust.
"We have spoken directly to the patients concerned and apologised to patients and carers.
"An investigation panel is now being convened to carry out a full investigation."