Stretford caravan blaze tackled by 13 fire crews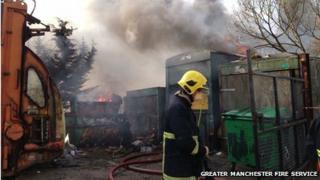 Thirteen fire engines with 65 firefighters have been tackling a fire involving several caravans in Greater Manchester.
The blaze in land on Bradley Lane, off Chester Road in Stretford, started at about 14:50 GMT.
A number of large caravans were on fire near where liquid petroleum gas cylinders were stored, Greater Manchester Fire Service said.
Police said the caravans were thought to be used for storage.
The fire involves a 1,500 sq m (1,790 sq yd) area which is used to store caravans and there are no reports of anyone being injured.
Heavy winds spread the flames to a domestic garage and crews wearing breathing apparatus have been trying to contain the fire to stop it spreading.
Station Manager Paul Duggan, officer in charge of the incident, said: "It has been challenging because we've struggled for water with it being remote and some very strong winds have been fanning the flames."
Crews used a water relay from the nearby River Mersey.