Manchester City Council approves tax rise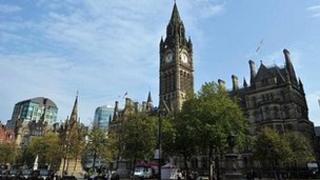 Councillors in Manchester have approved a 3.7% tax rise to tackle a £40m funding black hole.
Plans to end the council tax freeze were approved, meaning residents will see a rise of 3.7% in 2013-14.
The council also plans to cut 830 jobs and close several swimming pools to deal with the "inescapable" cuts.
One of the pools, Withington Baths, has already been granted a two-year reprieve from closure after plans to close it were met with strong protests.
Manchester City Council had proposed the closure of swimming pools in Broadway, Levenshulme, Miles Platting and Withington due to high maintenance costs.
Libraries shut
It will then build three new facilities - at Hough End, Levenshulme and Beswick - as replacements by 2015.
The council decided last month to keep Withington Baths open until the new facility opens at Hough End.
It hopes some of the funds needed to cover costs will be raised by community campaigners.
Council plans to close five libraries are currently out to consultation and a final decision will be made in May.
Five libraries - at Burnage, Fallowfield, Miles Platting, New Moston and Northenden - are set to be replaced with "outreach libraries or community book collections", while Levenshulme Library will be moved into the same building as the new swimming pool.
Cuts of £170m were already due to be made between 2011 and 2013.
The figure of £40m to be made this year is set to rise to about £80m for next year, 2014-15.