Dust from recycling plants 'puts residents at risk'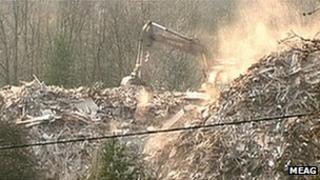 Dust from two wood recycling plants in Greater Manchester could be making people living near the sites ill, air quality experts have said.
Residents near the Armstrongs site in Horwich and the Plevin site in Mossley have complained of health issues.
The Environment Agency said the dust is well within regulations and both companies are working within the law.
But Dr Bill Sammons said people living near the plants could be at risk of harm from breathing in dust particles.
People living near the site claim to be suffering from nosebleeds, coughing and sneezing and worsened asthma symptoms.
The World Health Organisation (WHO) has said levels of emissions lower than those acceptable in the UK are problematic.
Its guidelines say average concentrations of the tiniest pollution particles - called PM2.5 - should be no more than 10 microgrammes per cubic metre but UK standards allow up to 25.
'Very significant impact'
Levels found by the Health Protection Agency in the vicinity of the Plevins plant were recorded at 8.2 microgrammes per cubic metre while levels outside Armstrongs were 8.8 - both well within the acceptable levels.
However, a recent review of evidence carried out by WHO found there were now concerns about a health impact at levels much lower than 10 microgrammes per cubic metre.
Dr Sammons, a paediatrician from Massachusetts in the US, said people living near the recycling plants could be at risk.
"I think the dust will be shown to have a very significant impact on certain people.," he said.
"The real concern is that exposure - especially over longer periods of time - we know will cause devastating health problems to all people, which are much more serious than the immediate problems of nosebleeds and headaches."
'Like fog'
Alan and Brenda Rigby live across the road from the Armstrongs site and both suffer from bouts of coughing and breathlessness.
Speaking about the dust, Mr Rigby said: "It was like fog coming up, if the wind was the wrong way it would come over, and that was going on for weeks.
"The dust is horrendous and we just want to know is it doing us any harm? I think it is."
Ben Whenlock also lives near the site. He said his two-year-old son wakes up every day by sneezing 10-15 times.
He said: "After reading up and finding out what some of the chemicals in this wood and the particles can cause, it is quite worrying especially with the young one around - more for him than myself, really, because obviously I don't want to put him in any danger at all.
"The fact that we are living so close to it is a major concern, really."
Armstrongs declined to comment.
A spokesman for Plevin said environmental responsibilities are "paramount to its whole operation".
He added: "We operate within the law in a heavily regulated industry, and monitoring of our site by the Environment Agency has demonstrated no breach of its air quality standards."