Manchester child poverty in shadow of 'different world'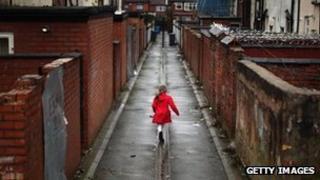 The inner city area of Collyhurst is only one and a half miles outside the middle of Manchester.
"Yet it's a completely different world to the shiny apartments, the designer stores and the regeneration in the city centre", according to Amanda Bickerton.
The charity worker, from Church Action on Poverty, said: "You come five minutes up the road and you're seeing buildings waiting for demolition, boarded up windows, a lack of facilities and people in poverty."
Ms Bickerton has been working to help communities close to Manchester city centre tackle deprivation.
A study comparing wealth levels across the UK has suggested 47% of children in the Manchester Central constituency live in households earning less than 60% of median income.
It highlights Manchester Central as having the highest levels of child poverty in the UK, based on data collated by researchers for the campaign group End Child Poverty.
Findings 'truly devastating'
Labour's Lucy Powell, MP for Manchester Central, described the figures as "truly devastating", with government cuts putting even more children in danger.
Jennifer Wilkinson, from Harpurhey, has a three-year-old son who will be starting school in September. Both her and her partner are looking for work.
She said: "Our electricity bills keep going up, so we have cut down on food. We have changed to a cheaper supermarket and now do a shop every two weeks instead of a weekly one.
"It isn't good for jobs at the moment, there aren't any vacancies for my level of experience. My partner can't read or write - he's doing a course to help."
The report says that being poor damages childhood and harms children's future prospects.
Sarah Brown, a mum of two young boys, is from neighbouring constituency Blackley and Broughton.
The 26-year-old said despite high levels of child poverty, there was still opportunity in the area.
"I'm a working parent, and there are jobs to be had here," she said.
"Jobs aren't easy to find at the moment, but some people aren't looking to get work, and I don't think there's any excuse for that."
'Nothing full-time'
The campaign group has written to local authorities most affected by child poverty asking them what they plan to do to improve things.
Bev Walker, 43, from Harpurhey has two sons, aged 12 and 21.
She said the key issue was not job opportunities, but how suitable jobs were to fund an acceptable living.
"Employers are taking on people on a part time basis, so they can avoid paying workers sick or holiday pay," she said.
"Both myself and my husband work, but my eldest is struggling. He has done courses and apprenticeships but there's nothing full-time for him."
Graham Whitman, from Save The Children, said child poverty rates were improving in inner London, but not in Manchester.
"More parents have been able to find jobs in London to get themselves and their children out of poverty," he said.
"But in Manchester far too many parents are struggling to find decent, well paid jobs to give them a chance in life.
"We've got a record number of people at the moment working part time, who would like to be working full time, so there aren't enough full time decently paid jobs around, and that's been hitting Manchester particularly hard."
"The demand for support from organisations like us is huge, and with further welfare cuts coming, that demand is only going to increase".