Professor named in Chetham's Music School sex abuse case quits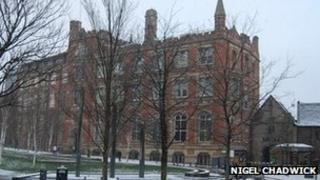 A Royal Northern College of Music (RNCM) professor has resigned after allegations of sexual misconduct.
Claims that Malcolm Layfield had relationships with students when he worked at Chetham's School of Music were made during the trial of former colleague Michael Brewer.
Brewer was convicted of abusing a pupil at the school in the 1970s and 1980s.
The RNCM said Mr Layfield's position as head of the School of Strings had "become untenable".
He had already stepped down from the college's board of governors following Brewer's conviction earlier in the month.
Victim 'killed herself'
Greater Manchester Police are investigating more than 20 allegations of historical abuse by former Chetham's pupils.
Violin teacher Wen Zhou Li, 57, of Cheshire, who teaches at both Chetham's and the RNCM, was arrested and released on bail last week.
Brewer, 68, of Selly Oak, Birmingham, was found guilty at Manchester Crown Court of sexually assaulting Frances Andrade in his office at Chetham's School of Music between 1978 and 1982.
His former wife Hilary Kay Brewer, 67, of Knowl Gap Avenue, Haslingden, was also convicted of indecently assaulting the same victim when she was an adult at the Brewers' then family home.
Mrs Andrade died after giving evidence at the trial. She is believed to have killed herself.
Manchester Crown Court was told the allegations about Mr Layfield were made by Mrs Andrade, 48, on behalf of other pupils over the age of 16, when she reported her abuse at the hands of Brewer to police, believed to be between 2001 and 2002.
Mr Layfield was appointed head of strings at the Royal Northern College of Music (RNCM) in 2002.
A college spokesman said they were aware of the allegations against him at the time of his appointment and "took what it considered at the time to be the appropriate steps".