Protest over Manchester swimming pool closure plans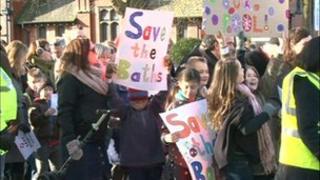 About 500 people joined a protest against plans to close a swimming pool in south Manchester.
Withington Leisure Centre is set to close along with pools in Miles Platting, Broadway and Levenshulme.
Chorlton Leisure Centre is also earmarked for closure in 2015 as part of Manchester City Council's plans to save £80m from its budget.
The council said it would spend £10m on three new pools in Beswick, Hough End in Chorlton and Levenshulme.
The Save Withington Baths campaign organised a march from Withington Baths on Burton Road down Wilmslow Road to Withington Library on Saturday.
'Very angry'
Save Withington Baths Campaign organiser Sian Astley said: "What Manchester City Council hasn't realised I don't think is the strength of passion and feeling that people have.
"It is woven into the very fabric of our community.
"They have really underestimated the strength of feeling. You can see today families turning out, people of all ages.
"It is just so, so important to us that this leisure centre remains open."
Jim Battle, deputy leader of Manchester City Council, said: "We are investing £10m in a modern replacement facility serving Withington and Chorlton and another in Levenshulme.
"This is in addition to the new pool, which is already in progress, for Beswick, in partnership with Sport England.
"The proposal is to close four pools, including Withington, which would avoid maintenance and running costs in the future.
"But, let me stress that no decisions have been taken. This is a consultation process and I'd encourage residents to share their views by visiting www.manchester.gov.uk/consultations - because their views will help shape final proposals."