Greater Manchester PCC Tony Lloyd holds first public meeting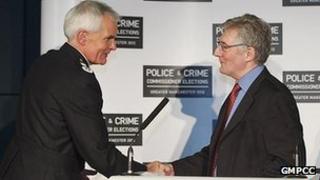 The police and crime commissioner (PCC) for Greater Manchester has held his first public meeting to discuss the future of policing across the area.
Tony Lloyd answered questions on his role as PCC and his plans and budget proposals for 2013 and 2014.
The event was held at Flixton Ballroom, Trafford, where Sir Peter Fahy, Chief Constable of Greater Manchester, also spoke.
A similar meeting will be held in each local authority area in 2013.
Mr Lloyd was elected as PCC in November 2012.
In his new role, Mr Lloyd replaces the Greater Manchester Police Authority and is responsible for appointing the chief constable, determining policing priorities and setting the force budget.
Greater Manchester Police serves more than 2.5 million people over an area of 500 square miles.