Cheshire East Council announces management shake-up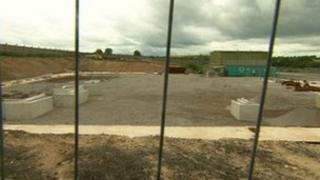 All management posts at Cheshire East Council are being deleted and staff will be forced to apply for their own jobs, it has been revealed.
The move is part of changes brought in after plans to build a recycling centre at Lyme Green were shelved, at a cost of £800,000 to the taxpayer.
A report published last year found work started on the plant before appropriate planning permissions were in place.
Staff have been warned compulsory redundancies may be unavoidable.
Work started on the site near Macclesfield on 24 October 2011, but a planning application was not submitted until 16 November.
Three phases
Plans were shelved by the council on 30 November after concerns from planning officers and residents.
Following an internal review, the council described it as "regrettable" and acknowledged "evident failings".
Conservative council leader Michael Jones, said earlier this month that a shake-up of management structures would take place.
The council has now published a report detailing the review of management roles and responsibilities.
It said the changes would be made in three phases - the first being the deleting of all senior posts (49 in total) with salaries of £55,000 a year or more by Easter.
The second phase will mean all posts with salaries of £30,000 a year or more will be deleted by July.
The third will end the posts of all frontline team leaders and supervisors by September.
The council said staff members would need to apply for, and be formally assessed on their suitability for, newly established posts with revised roles and responsibilities.