Hazel Blears MP: Ambulance 999 delays are shocking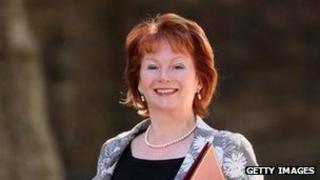 A woman hit by a car and thrown over its bonnet had to wait more than an hour for an ambulance, an MP has said.
Salford MP Hazel Blears (Labour) has written to the North West Ambulance Service about this and two similar incidents in Greater Manchester.
Ms Blears called the delays "shocking" and "unacceptable" in letter she has written to the ambulance service.
A spokesperson for the ambulance service said it had yet to receive the letter and will respond when it does.
Ms Blears said her constituent Maureen Pratt first called an ambulance at 17:47 GMT when she was hit by a car on 5 December on London Street in Pendleton, Salford.
Another call was made an hour later when Mrs Pratt started to slip out of consciousness and it took a further 11 minutes before an ambulance could take her to hospital.
Motorway casualty
"I find it unacceptable that anyone should have to wait this long for an ambulance," said Ms Blears.
She added: "Worryingly it appears this was not an isolated incident."
The MP said on Wednesday a man who was left unconscious by a street attack in Eccles, another part of her constituency, had to wait an hour for an ambulance, according to police.
While on 13 December a woman left lying in the outside lane of the M60 near the Bredbury junction did not get to hospital for an hour after the 999 call - one ambulance arrived within 15 minutes but did not have a spine board.
"I am shocked by the response times to these recent incidents and worried for my constituents who may have cause to call for an ambulance," the MP wrote.