HMP Manchester governor 'moved' over conduct claims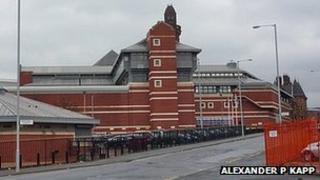 The governor of HMP Manchester has been "moved to alternative duties" after allegations of unprofessional conduct.
A Ministry of Justice spokeswoman said an investigation had been launched into claims made against John O'Sullivan.
Mr O'Sullivan, who took charge of the prison in September, was previously governor at HMP Stocken in Rutland and Rugby's HMP Onley.
The spokeswoman said the investigation was to "determine if there are any grounds for concern".
HMP Manchester, formerly known as Strangeways, is a high security prison, which houses around 1,200 inmates.