Salford Council backs £430m Pendleton regeneration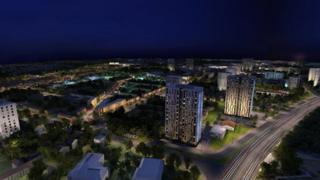 Councillors in Salford have given the go-ahead to a £430m scheme to regenerate a part of the city which suffered most in last year's riots.
The council's planning committee has approved a programme which will build 1,600 new homes and refurbish more than 1,200 in Pendleton.
Its first phase begins later this year and will end in 2016.
Earlier this year planning permission was granted to expand the Salford Shopping City in Pendleton.
Phase one of the plan, from consortium SP+, includes building about 300 new homes and refurbishing 1,253 properties, including the area's nine tower-blocks, with new kitchens, bathrooms and windows.
The full project also includes changes to Clarendon Park and other green spaces, new walkways and cycle paths, a community farm, an extra care facility, new shopping promenade and new sports pitches at the Fit City development.
In summer 2011 Shopping City in Pendleton was the focal point for rioting and looting.