Manchester riots report says more investment needed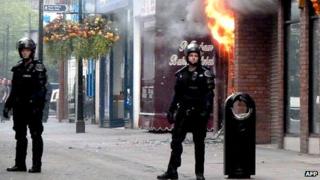 More investment is needed in deprived parts of Manchester and Salford, according to a report into last summer's riots in the two cities.
Think tank Social Action and Research Foundation (SARF) also urged a review of police "stop and search" tactics.
SARF has called for more help for young people in both cities looking for work.
The Salford-based policy research organisation said it had based its findings on a year-long conversation with communities affected by the riots.
The Tale of Two Cities: Complex Causes, Complex Solutions report said the government's view that the riots were about "criminality pure and simple" had been dismissed by the vast majority of people SARF spoke to throughout Manchester and Salford.
But it also said: "Our two great cities of Manchester and Salford are well placed to respond to the complex challenges that were so shockingly presented last summer."
'Complex reasons'
The report argued that to prevent a repeat of the riots, deprived areas needed investment and people in these areas needed to have a bigger say in the decisions made about them.
It argued illiteracy, truancy and youth unemployment all played their part in causing the riots, saying these issues were not an excuse for what happened but were problems which need addressing.
SARF director Amina Lone said: "There are complex reasons for the riots. There were some people just intent on robbing and looting, but we need to look at the underlying causes.
"A lack of investment in poor areas does make a difference to you being more at risk of being involved in behaviour that's going to be detrimental to yourself and society."
Sir Richard Leese, leader of Manchester City Council, said he thought a repeat of the riots was "unlikely" due to the public outrage that followed.
But the council was trying to address the root issues, he said, adding: "The riots were criminality, there's no doubt about that, but where did that criminality come from?
"We're doing work on new ways of preventing offending and reoffending, how we can tackle worklessness, how through apprenticeships, through education we can give young people some hope."