Shafilea Ahmed: Mother says father was last to see her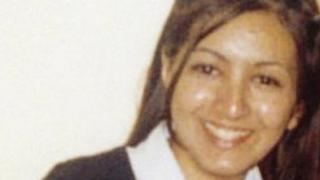 Shafilea Ahmed's mother has told a court her husband was the last person to see their daughter alive.
Farzana Ahmed, 49, and her husband Iftikhar, 52, both deny murdering the 17-year-old at their Warrington home in 2003.
Speaking through a translator, Mrs Ahmed told the jury at Chester Crown Court that she had played no part in Shafilea's death.
She also said she had not seen Shafilea being killed.
Mrs Ahmed added the last time she had seen her daughter was on 11 September 2003.
Asked by Mukhtar Hussain QC, defending Mrs Ahmed, who the last person was to see her daughter alive, she replied, "My husband".
'Slapped her'
In response to a question about Shafilea's friends and relationships outside of her family, Mrs Ahmed told the court she did not know of her daughter's contact with boys until 2002 when her phone rang.
The court heard she was told to answer the phone, with a male voice audible on the other end of the line asking if she was ok.
Mrs Ahmed said they asked her daughter who it was, but she would not answer them.
Asked by Mr Hussain how Mr Ahmed reacted to this, Mrs Ahmed said: "He slapped her twice".
Mr Hussain then asked Mrs Ahmed how she responded, to which she replied: "What else could I have done, I said to Shafilea, tell your father the truth".
'No drugged drink'
Mrs Ahmed she had been "very upset" when Shafilea ran away from home to Blackburn in early 2003.
The jury heard the family flew to Pakistan the day after Shafilea was brought home by her father.
Mrs Ahmed denied there was a "plan" to get her married off when in Pakistan, and denied Shafilea was given a drugged drink to get her on the plane.
She said: "There was no drink, I don't know anything about it."
Shafilea's body was found on the bank of the River Kent in Cumbria in February 2004.
Earlier in the trial, the jury was told Mrs Ahmed had changed her account, claiming she saw her husband beat Shafilea on the night of the alleged murder.
She also claimed he had threatened to do the same to her and their other children if she ever asked him what happened to Shafilea.
The prosecution claims Shafilea was killed by her parents because they thought she had brought shame on the family through her desire to lead a westernised lifestyle.
The trial continues.