City's Jewish community stands firm after 'jihad at home' terror plot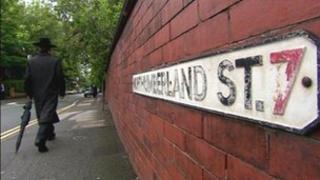 "I've had eggs thrown at me, been punched in the face and suffered verbal abuse for being a Jew," said Rabbi Arnold Saunders.
"But we were all taken aback when we heard about a terrorist bomb plot."
The rabbi, of the Higher Crumpsall and Higher Broughton Synagogue, is trying to reassure his shocked community after the conviction of a radicalised Muslim couple for planning bomb attacks on Jewish areas.
"You can't run your life thinking you might be a victim of a terror attack, and if you did that would mean the terrorists had won," he said.
Mohammed Sajid Khan, 33, admitted trying to carry out "jihad at home" and his wife, Shasta Khan, 38, was found guilty of her involvement following a month-long trial at Manchester Crown Court.
Police, who had been called to a domestic disturbance to their house in July last year, found bomb-making materials and radical al-Qaeda literature.
Their sat-nav showed they had been driving in Jewish areas around Prestwich, with the aim of identifying targets, police said.
'Instil fear'
Jonathan Kalmus, northern correspondent for the Jewish Chronicle, who followed the trial closely, said: "The community is very close-knit and to have people driving around in your midst with those kind of intentions has been very unnerving.
"It's a concern that the only reason this came out was by accident, there was no police intelligence. It begs the question - are there others?
"That's the type of fear they want to instil."
He described the most "chilling" element as the fact that, sitting at home with just access to the internet, someone could become radicalised to that extent.
There have been a number of recent cases of extremists targeting the Jewish community.
Earlier this month, community leaders revealed they were informed by police, following the killing of senior al-Qaeda leader Fazul Abdullah Mohammed in Somalia, that documents were found on his body relating to the potential targeting of Jewish areas of London.
In February, a court heard a bugged conversation between two of the three men jailed for a plot to bomb the London Stock Exchange, where they referred to Hitler as being "on the same side as the Muslims".
And during other terror trials it has emerged that alongside more high profile targets such as shopping centres, bombs were also intended for synagogues and rabbis.
'Real problem'
The Jewish Community Security Trust, which has 3,000 volunteers, works with police and the government to protect its community from "constant" threat.
Most synagogues and Jewish schools have CCTV installed by the council. It also provides access controls to secure buildings as well as protective film for windows in case of explosions.
Spokesman Mark Gardner said: "There's a real problem with anti-Semitism within the pro-jihad extremist circles, and the Jewish community is very aware of it.
"But it's worrying to see the Jewish community singled out for attack in this way.
"The sad fact is that Jewish communities have faced various terrorist threats from the 1960s onwards, and in the late 1990s, with al-Qaeda, that threat moved up a notch. But it's been constant now for about 10 years."
Terrorism is not the only threat; reports of anti-semitic incidents are on the rise in Greater Manchester .
Last year, for the first time, there were more incidents in the region than in London, which has a much greater population of Jews.
Police confirmed there were 244 reports, ranging from violent assaults to damage to property in Greater Manchester in 2011 - that figure has trebled since 2003.
Rabbi Saunders said: "Jewish people realise that we're always liable to be targeted, it goes with the territory.
"Someone once told me 'I'm going to kill you, Jew'. There have been daubings on synagogues, gravestones and houses.
"These incidents are a lower level, however, than what was planned by the Khans."
He is a member of the Muslim Jewish Forum of Greater Manchester, alongside forum co-chairman and Manchester city councillor Afzal Khan.
The forum was set up about eight years ago to "strengthen understanding" between the two communities.
Of the planned attacks, Mr Khan said: "It's a deeply concerning issue, but we have got strong relationships within the communities.
"Everyone was shocked, both Muslims and Jews, and we all need to be alert.
"Historically relations between the two communities are good, we have more similarities than differences, it's just an isolated element hell bent on trying to disrupt things."