Oldham Military-run free school rejected by government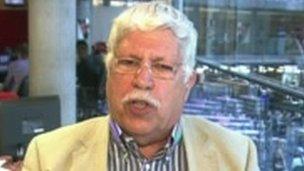 Plans to open the UK's first military-run free school staffed by former members of the armed forces in Oldham have been rejected by the government.
Tom Burkard, who proposed the Phoenix Free School, accused the Department for Education (DfE) of turning down the plan because it was not "conventional".
The Prime Minister earlier announced that 102 new Free Schools have been approved to open from 2013.
The DfE described their plans as a "strong bid".
'Rigorous criteria'
Government officials said they will work with the organsiers to help them submit another proposal.
In a statement, they said: "We have extremely rigorous criteria for approving new free schools, unfortunately (the bid) at this time was not approved."
Nationally, 24 semi-independent state-funded schools opened last September.
The schools are being set up by groups, including charities and religious bodies, teachers, parents and education chains behind academy schools.
Mr Burkard, a former school teacher and a military instructor, said: "They feel that we should have more experienced teachers, people who are experienced in the state system.
"They want to see something that looks more like a conventional school, in other words people who have conventional training, experienced teaching in conventional schools."
He added most of their proposed teachers had "spent most of their careers teaching, using a different ethos and approach to discipline".
Plans were revealed for the free school staffed by former servicemen and women in September 2011.
The plan's authors claimed the school would "keep kids out of gang culture".
'Unique and innovative'
Elsewhere across Greater Manchester, appoval was given to the Big Life Group's Longsight Community Primary School.
Faye Selvan, chief executive of the Big Life Group, who are also behind the Big Issue magazine, said their plans were "unique and innovative".
In Beswick, Connell Sixth Form College, run by Altrincham Grammar School for Girls, was approved.
The project has the support of Manchester City Football Club, with the premier league title holders donating the land on which the college will be built.
Sir Richard Leese, Leader of Manchester City Council, said: "This much-needed new college will help realise our ambitions for east Manchester. It will complement existing further education provision, meet the growing demand for sixth form places in the area and enhance the opportunities available for our young people."
In Oldham, the Collective Spirit school has been given the go ahead.
The 'faith sensitive' school aims to encourage the cohesion of diverse communities.
Other schools approved include New Islington Primary in Manchester, Stockport Technical College and The Olive Tree School in Bolton.