Anuj Bidve murder accused Kiaran Stapleton 'loves prison'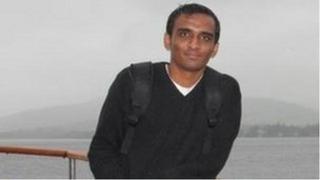 A man who shot dead an Indian student in Greater Manchester has told a court: "Lock me up for 65 years."
Kiaran Stapleton, 21, admits shooting Anuj Bidve in Salford on Boxing Day but denies murder.
When the prosecution asked if he hoped psychiatric reports would prevent him being jailed, he said: "To be honest, I'm not bothered."
He told Manchester Crown Court: "I love prison. I watch Coronation Street. I have got a fat canteen."
"I love prison. Lock me up for 65 years."
'I'm not bothered'
Looking to the jury from the witness box, he added: "Does this face look bothered?
"I have even got a new rug and bedding coming for my cell. I'm not bothered."
The court has heard Mr Stapleton walked up to Mr Bidve, 23, and his friends in Ordsall, asked for the time and fired one shot to his victim's head without warning.
Two days after the shooting he had a tear tattoo inked on his face.
Brian Cummings QC, prosecuting, asked him why he got the tattoo and explained he knew it had several meanings, including signifying the wearer had killed someone.
Mr Stapleton said he had told staff at the tattoo shop that he had killed his goldfish but did not want to talk about it further because he might receive "animal cruelty" letters in prison.
'Little audience'
Mr Cummings asked: "Are you being serious or are you making fun of the proceedings?
Mr Stapleton replied: "No, no, I'm being serious."
The defendant was earlier accused of mocking the court when answering a question about his stay at the Campanile Hotel in Regent Road - near to the crime scene - the day after the shooting.
The jury has seen CCTV footage of Mr Stapleton looking out of the hotel windows.
Mr Cummings asked him why he did this.
Mr Stapleton said: "Seeing if there were any nice women walking past Regent Road... seeing if there were any nice legs."
The prosecutor asked: "Is that true or are you having a laugh in this trial?"
Mr Stapleton replied: "No, that's true."
He denied he had brought along his "little audience" of friends to the tattoo shop in Swinton and was "showing off" to them as they laughed and joked.
"This was all about enjoying your status as a killer, was it not?" said Mr Cummings.
'No feelings'
Mr Stapleton said: "No."
Defence psychologist Dr Sanya Krljes told the court she found that Stapleton had difficulties in expressing his emotions.
She said he had experienced behavioural problems at school, where he was expelled on a few occasions and had got into fights.
He had explained to her how his mind had gone blank when he became involved in a road rage incident in 2011 and when he threw a bucket of boiling water over a fellow inmate three months ago.
Dr Krljes said he had no idea or insight into what had caused him to shoot dead Mr Bidve.
He felt "nothing" about the shooting, the court was told.
The trial continues.