Son questioned over parents' murder in Sale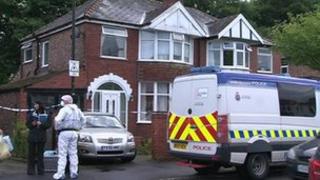 The son of a couple shot dead in their Greater Manchester home is still being questioned on suspicion of murder.
Bob Seddon, 68, and his wife Patricia, 65, were found by police at their house in Clough Avenue, Sale, on Friday.
Nic Seddon, 45, was arrested at his home in Seaham, County Durham, the following day.
Greater Manchester Police said it was conducting a "dynamic, fast-paced investigation" into the double shooting.
Officers were called to the house at about 16:35 BST following a concern for welfare of the occupants of the house.
Post-mortem examinations showed the pair had died from gunshot wounds.
'Double tragedy'
Forensic tests are being carried out on the weapon that was used to kill the pair, which was found in the house by officers.
Speaking about the murder investigation, Supt Simon Retford said: "What happened appears to be isolated but this is a dynamic, fast-paced investigation and we are not leaping to any conclusions.
"The fact remains that there has been a double tragedy and our thoughts are with the families affected at this terrible time."
He added: "You will see more police than usual on the streets of Sale and I think people will be comforted and reassured by this.
"It is natural that Sale residents will have many questions about what has happened in their community. The high-visibility patrols are approachable so I would encourage anyone with concerns to speak to the officers on the street - they are there to help."
In March, Mr and Mrs Seddon were rescued by emergency services after a car they were travelling in plunged into a canal.