Anuj Bidve murder trial: Jury hears call by accused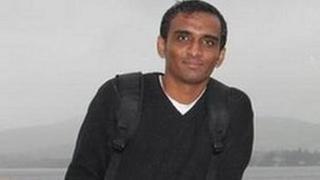 A recorded phone call in which the man accused of murdering Indian student Anuj Bidve spoke to his family while in prison has been played at his trial.
The call, in which Kiaran Stapleton speaks to his brother Kyle about the clothes he has to wear, was played at Manchester Crown Court.
The 11 minute call was made four days after Mr Stapleton's trial began.
Mr Stapleton, 21, has admitted the manslaughter of the Lancaster University student but denies murder.
In the call, the jury heard Mr Stapleton discussing how he wanted some new clothes to wear while in prison "because I'm walking around here looking like a tramp".
While speaking to his brother, the defendant said: "I have just told my mam I want the cardigan from the Trafford Centre that I murdered Anuj Bidve with."
He added that he wanted a replacement for the top that he was wearing on the night that Mr Bidve was shot, which is an exhibit in the case, as "the court has got my cardigan".
He went on to tell his brother that he wanted something "proper nice" to wear.
The recording also included an exchange between Mr Stapleton and his mother, in which she chastised him for an outburst in the courtroom.
Mr Bidve had been walking from a hotel in Salford, where he and friends had been staying for Christmas, when he was killed.
The trial continues.