Kiaran Stapleton 'laughed' after shooting Anuj Bidve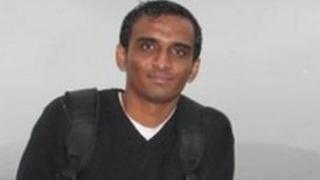 A 21-year-old man laughed and ran off after shooting Indian student Anuj Bidve in the head, a court was told.
Kiaran Stapleton, from Ordsall, has already admitted shooting the 23-year-old in Salford on 26 December 2011.
The Crown Prosecution Service did not accept his plea of manslaughter and he is now being tried for murder at Manchester Crown Court.
Mr Bidve was walking from his hotel to the Boxing Day sales in Manchester when he was shot at close range.
He had been studying for a micro-electronics postgraduate qualification at Lancaster University and had travelled to Manchester with a group of friends.
Psychiatric evidence
It was when the group were walking from their hotel in Trafford Park into the city that Mr Stapleton approached them on Ordsall Lane.
The court heard Mr Stapleton asked them for the time before shooting Mr Bidve in the head.
Opening the case, prosecutor Brian Cummings QC said: "Anuj Bidve immediately fell to the ground, fatally injured.
"The gunman smirked or laughed and ran off."
Mr Cummings told the court how Mr Stapleton gave his name as Psycho Stapleton at an earlier hearing.
The prosecutor said the defence was likely to call expert psychological and psychiatric evidence in the trial.
He said it was anticipated the defence would seek to claim it was manslaughter on the grounds of diminished responsibility, but he added: "For the avoidance of doubt, the prosecution case is that Kiaran Stapleton intended to kill."
The jury was told Mr Stapleton only admitted he was the person who shot and killed Mr Bidve after he was charged with murder.
Mr Bidve's friends had described the gunman and Ryan Holden, who was with him at the time.
Police looked at CCTV and arrested Mr Holden on 28 December and Mr Stapleton the day after.
Mr Holden was arrested as a suspect, but is now due to appear as a witness for the prosecution.
Mr Cummings said Mr Holden told officers he was afraid for his own safety and that of his family, but after police reassured him he began to answer their questions.
'I'll kill him'
Mr Holden told police his cousin, Chelsea Holden, was a former girlfriend of Mr Stapleton and they had a child together.
He said he and Mr Stapleton had spent Christmas night together drinking and "chilling", but at one point someone mentioned Ms Holden had slept with another man while she and Mr Stapleton were living together.
Mr Stapleton said something like "If I see him, I'll kill him", the court heard.
At about midnight, the pair went to get some food from a McDonald's or Kentucky Fried Chicken shop on Ordsall Lane and saw Mr Bidve and his friends.
The court heard they were "not dressed like Salford people" and "seemed to be having a laugh".
Mr Cummings said Mr Stapleton told his friend to wait before he crossed over the road and spoke to the group.
Mr Holden then saw Mr Stapleton raise his arm and he heard a loud shot.
Teardrop tattoo
"He also heard a lot of screaming and then Mr Stapleton ran back towards him, shouting 'Run!' - but he was already running," Mr Cummings said.
The men ran to Mr Stapleton's house in Regent Square, where Mr Holden was panicking.
Both men showered, but when Mr Holden returned his clothes had vanished and Mr Stapleton had a new set for him.
Mr Holden's bag had also disappeared, the court heard.
The pair stayed at the house and the next day went to Leigh, Greater Manchester, and stayed there before returning to Salford and going their separate ways.
Mr Stapleton then checked into the Campanile Hotel in Ordsall, where CCTV showed him looking out of the windows towards the crime scene.
On 28 December, he went from the hotel to the Candy Skull tattoo shop in Swinton, Salford, and had a tear drop design inked on to the side of his face.
Mr Cummings said: "The tattoo shop staff remember his visit... because of the nature of the tattoo which, amongst other possible meanings, can signify that the wearer has killed someone."
When this was pointed out to him he remarked that he had killed his goldfish, and the tattoo was done for him and he left.
The trial was adjourned until Tuesday.