Eccles 'slave case' girl: Ilyas Ashar says girl was 'happy'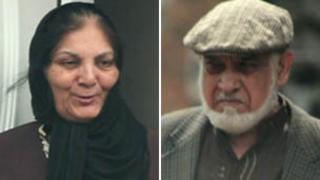 A man accused of keeping a girl as a slave in a cellar for years has told a court she was "happy" to work for him.
Ilyas Ashar, 83, said the alleged victim, an orphan from Pakistan, had not been forced to work at his home In Cromwell Road in Eccles, Salford.
He also said the accusation he raped her was untrue as he was physically incapable of it.
Mr Ashar and his wife Tallat, 66, deny charges of false imprisonment, human trafficking and sexual offences.
The pair, who are on trial at Manchester's Minshull Street Crown Court. also deny charges of benefit fraud.
The trial has previously heard claims the girl was beaten regularly, repeatedly raped by Mr Ashar and kept a virtual prisoner to work for the family.
The girl never went to school and was taught only to sign her name for the purposes of a benefits fraud, the court was told.
Prosecutor Peter Cadwallader said to Mr Ashar that he had wanted the girl, who was 10 when she arrived in the UK in June 2000, "as a domestic servant and for your own sexual pleasure".
He added that he had "exploited her by forcing her to work" and "made her work for you and your wife".
Mr Ashar said it was "not true" that he had raped the girl, as he was "unable to do it".
He added that he and his wife had "never made her work".
"She's happy to do the work, to help. We treated her like a family member, or daughters," he said.
He went on to say that he had "never, never" locked the girl in the cellar and he had "absolutely not" sexually abused her.
Asked by Mr Cadwallader about the girl's earlier testimony, Mr Ashar said it was "absolutely she that's lying".
The case continues.