Shafilea Ahmed death: Sister 'wrote of killing'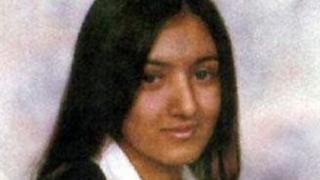 A sister of Shafilea Ahmed has "chosen to tell lies" about letters given to a friend detailing her parents "killing Shafilea", a court has heard.
Shafilea's parents Iftikhar, 52, and Farzana, 49, deny murdering their daughter by suffocating her at their home in Warrington, Cheshire, in 2003.
The prosecution at Chester Crown Court alleges Mevish Ahmed, 21, wrote to a friend detailing her sister's death.
However, Ms Ahmed said the letters were "free writing" and "fiction".
Prosecutor Andrew Edis said the documents, written in 2008, had only recently been shown to police by Mevish Ahmed's friend, Shahin Munir.
He suggested to Ms Ahmed, who was 12 when Shafilea disappeared, that they were "letters that you wrote to your friend about your sister's death".
"These pieces of paper were about your parents killing Shafilea," he added.
He said the letters included lines such as "how did it happen?", "I wish I'd never seen it but I did" and "the same thing's going to happen to me".
However, she replied that they were "not letters about my sister's death, they are free writing".
'Chosen to lie'
"I write fiction, I write it quite a lot. Me and [sister] Alesha used to write fictional things and make-believe," she said.
"It's not necessarily associated with ourselves."
She added that she had been using drugs around the time the documents were written.
Ms Ahmed was also asked about a telephone call made to Ms Munir during the second week of her parents' trial, in which the prosecution alleged her friend had apologised for handing the documents to the police.
She initially denied any memory of the call but then said she had spoken to Ms Munir.
However, she denied that, during the call, she had "aggressively threatened" her friend and demanded the handing over of diary notes made after a conversation about Shafilea's death in a park in 2008.
The prosecution said to Ms Ahmed that "you have made your choice - you have chosen to tell your parents' lies".
She said she was "not going to sit here and lie" and denied being scared of her parents.
Mr Edis went on to question Ms Ahmed about her parents' relationship with her sister, asking her if, "in the last year of her life, your sister had been happy and had a normal relationship with her parents?"
Ms Ahmed replied that she did.
'Run away before'
Ms Ahmed added that she had last seen Shafilea on the evening of 11 September 2003.
She told the jury that she had presumed Shafilea had "run away" and was staying with school friends.
She told the jury that this was "something that had happened before".
Mevish Ahmed is the second of Shafilea Ahmed's sisters to have appeared in court.
Previously, Alesha Ahmed claimed she saw her parents Iftikhar, 52, and Farzana, 49, suffocate Shafilea with a plastic bag.
The prosecution alleges Mr and Mrs Ahmed murdered their "Westernised" daughter because they believed her conduct was bringing shame on the family.
Her remains were found on the banks of the River Kent in Cumbria in 2004.
The trial continues.